I have a pretty good idea, but the reason doesn't really matter. If you're just going to give up, why waste anybody's time, especially your own? Time is the one thing we can't get back. It's the most important thing. Why waste it saying you're going to do this or that and then just quit?
Yeah.. shit happens. It happens to everybody. Our plans fail. Things get in our way. Things beyond our control.
Do you lie down and take it, or you stand up and let that shit bounce off you like bullets off
Superman's chest?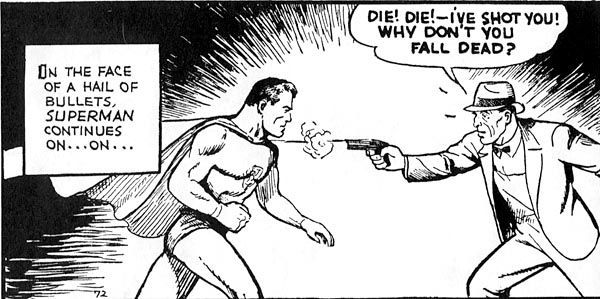 I have friends and family that say stuff like "I can't do this" and "I can't have that", and here are all of the reasons why, and I can't do anything about it. Total BS!
The world doesn't owe me anything, and it doesn't owe you anything either buttercup. (Does that sound harsh?)
You can do something about it! Cut crap out of your life that doesn't lead to your dreams, or that doesn't support your passions. Learn something new. Work hard at a new skill. Turn over every rock to find new opportunities. Take action and do something! Don't just sit there and waste the time you have left.
And, when the inevitable things happen, learn from them and move on. Do better next time.
Just get something done…
Maybe you feel like your too busy. Life got in the way. My last blog posts were about information overload. Did you catch those?
Avoid Overload: Stop Learning… Start DOING! Part 1
Avoid Overload: Stop Learning… Start DOING! Part 2
Maybe it's a good time to disconnect a bit. Step back and take a long look in the mirror. You owe it to yourself. You owe it to those that care about you.
You may not see it quite yet, but there's abundance in this world. Everything you've ever
wanted already exists.
Getting there is a matter of aligning your thoughts and actions with the things you say you
want and allowing the Universe to work in your favor.
"How do I do that, Darrel?"
First, spend time with your kids (if you have kids). Call your parents while you can. Spend more time with friends. Keep close those that you truly love and care about, and be there for them too.
Next take a look around. Who has the lifestyle you want? There are plenty of models to choose from. How did they get their lifestyle? What action did they take? What can you do to get there too? What can you learn from them?
Shifting your mindset from negative to positive has an odd way of revealing opportunities that you might have missed otherwise.
Maybe this all sounds like metaphysical BS. Hell, it sounds that way a bit to me too. But, what if? What if you really can improve your future through a positive mindset? You just might be surprised at who comes into your life and wants to help you or work with you.
Isn't that the true essence of "faith"?
Be about it. Do something. Do something big.
Tic-tock tic-tock… (Because we all end someday)